Sometimes the Best Christmas Presents are Ones You Make Yourself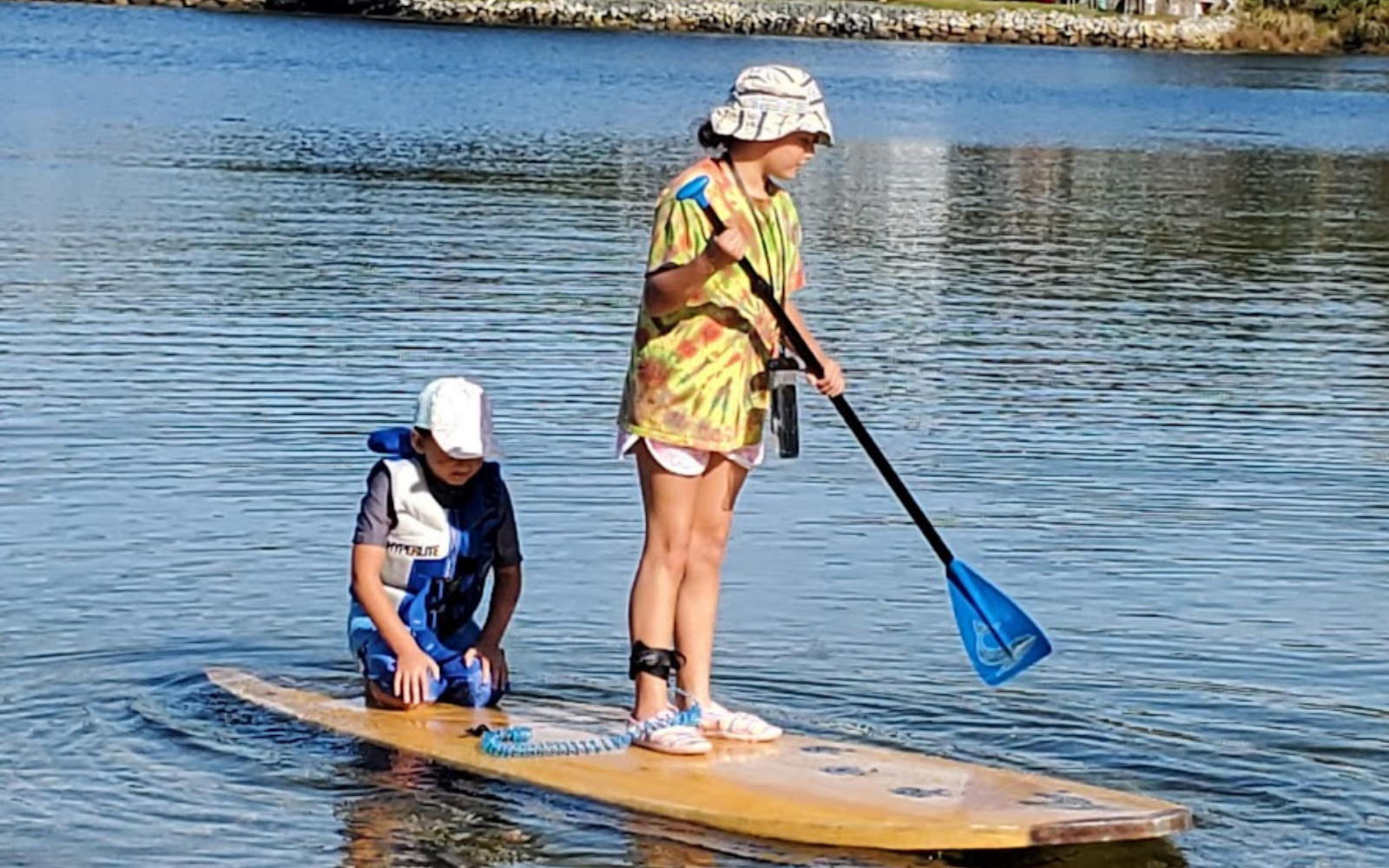 Our daughter, Noemi, loves the water. It's quite possible that she was a mermaid in a past life! So, when she developed an interest in paddleboarding, we weren't at all surprised.
We're lucky enough to live close to a supervised lake beach which has paddleboards that you can borrow when the lifeguard is on duty. Noemi's had a blast with them every year, but we never managed to buy her one of her own.
Ray loves a challenge, so he did some research and figured out that he could make a paddleboard. It wouldn't be a short project, but it was doable. Christmas was coming and he had an idea: why not buy Noemi the plans for her own wooden paddleboard and have her help him make it every step of the way?
When it comes to Christmas, I usually take the lead on everything. I pick out the gifts and Ray just goes along with whatever I suggest like a stereotypical dad. But this time, he was inspired!
He found a set of plans that looked like a good starting point. Then on Christmas morning, he gave them to Noemi.
The gift was a hit from the start! They read the plans together and worked out which style of board they wanted to make and what materials they'd need.
Then Ray used the laser cutter to make the pieces for the skeleton and put them together with help from Sebastian.
Once it got warm enough that they could work in the shelter outside without freezing, they cut the strips for the shell and then began gluing them to the laser-cut skeleton.
Making a paddleboard takes a long time. There are days and days (and days) of gluing. And I would be lying if I said that Noemi was thrilled about helping Ray every single day. Each strip took 30 minutes to attach, and, frankly, watching glue dry is about as interesting as watching paint dry.
When a kid loses interest in a project, it can be tempting to give up, let it go, and do the rest yourself, but Ray was determined. This was a father-daughter project and that meant that Noemi had to help.
Sometimes she grumbled, but she kept at it. And when it came down to it, she enjoyed the regular one on one time with her dad.
Even though the gluing seemed endless, eventually they finished it and could move on to the next, less tedious steps. Once the board stopped looking like a bunch of wooden strips and started looking like an actual paddleboard, it was easier to get Noemi excited. It felt real, and she knew it was almost done.
Noemi took some time to consider her choice of decoration. When you're making a board that can last a lifetime, you want to make sure that you don't pick anything you might outgrow and regret.
She finally decided on a school of sea turtles and helped Ray apply the transfers to the board. It felt like she was putting her personal stamp on this multi-month project and saying, "This is mine, and no one else's."
They finished the project at the beginning of August, which meant there was plenty of time to test it out at the lake. It was a big hit with Noemi and Sebastian but also with passers-by who stopped to admire it. Everyone was so impressed when Noemi told them she helped her dad make it.
This paddleboard is going down in our family's history as one of the most successful Christmas gifts ever. It took a lot of work, but the time Noemi and Ray got to spend together, the lessons she learned, and the incredible final product were more than worth it.
Ray has plans in the works to make each of us our own paddleboard—he's already making notes on ways he can improve the design. We've got no idea where we're going to store them or how we're going to get them all to the beach when they're done, but we're excited anyway!
We're also opening the shop for very limited custom paddleboard orders. If you're interested in learning more, get in touch at ray@toymakeroflunenburg.ca or check the paddbleboard page here.
I'm putting together a massive photo post showing the exact process of how Noemi and Ray made her board. Stay tuned for all the juicy details.
1 Response
Leave a comment
---
Also in Posts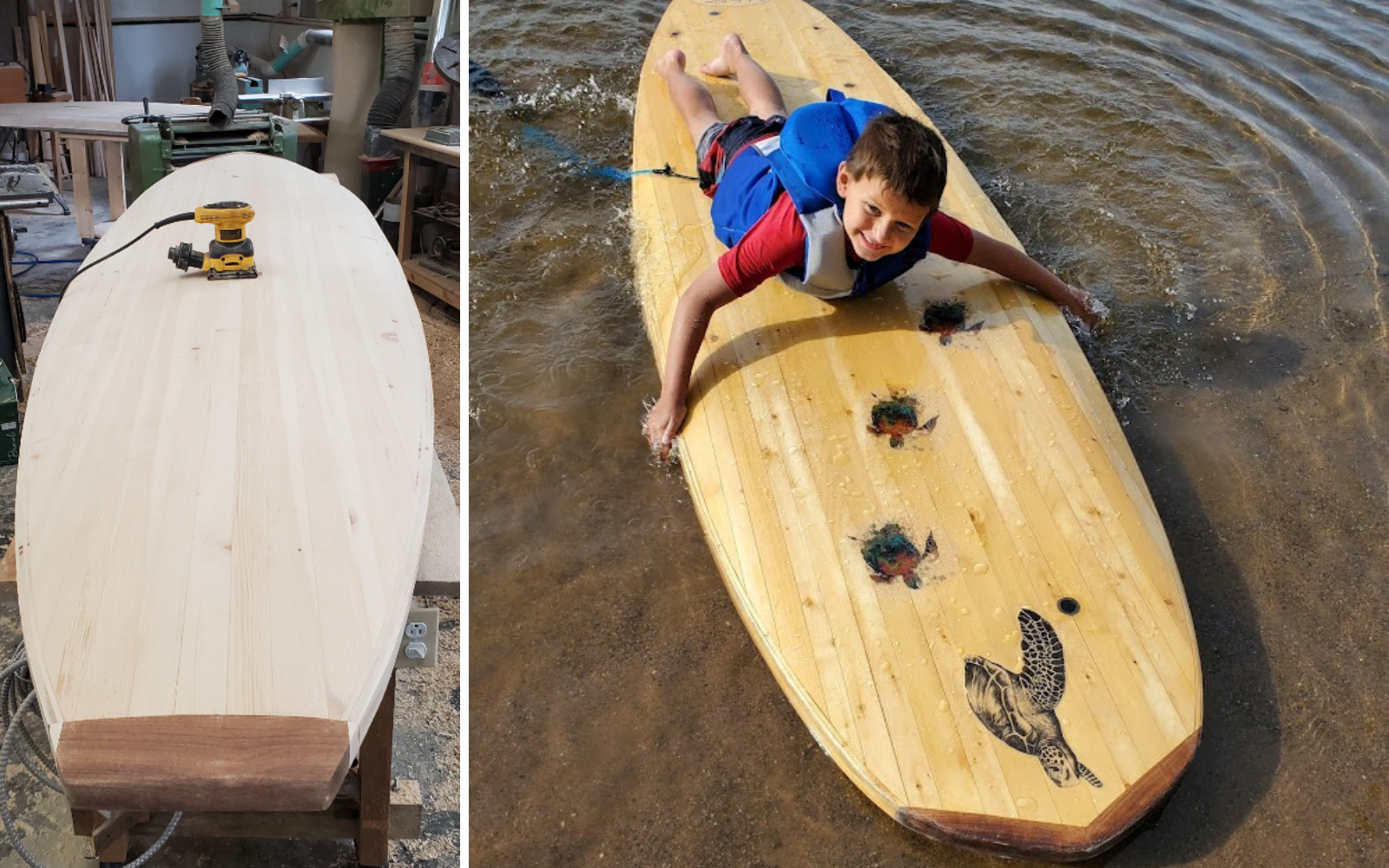 Check out the process of building custom wooden paddleboards for the family. The paddleboards are made of thin wooden strips glued to a centre skeleton.