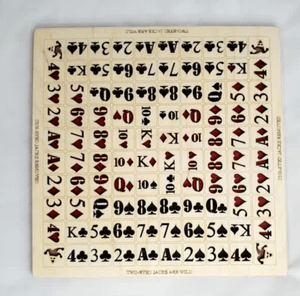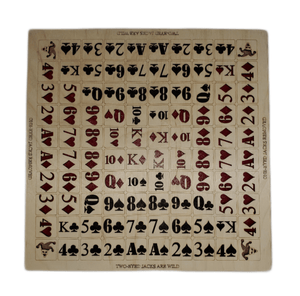 Wooden Succession Board Game with Cards and Playing Chips
Bring your family game night to the next level with this stylish succession board!
The board is made from two layers of birch plywood. The bottom layer is painted red and black to easily identify the two suits at a glance. The card images are laser engraved on the top layer.  The board has a lacquer finish for durability. The game comes with two decks of playing cards and 135 red, blue, and green game chips.
Take turns playing cards from your hand and placing chips onto the corresponding spaces on the board. Your aim is to be the first to form a run of five consecutive chips- but watch out for those sneaky Jacks – they're like villains trying to crash other players' plans… Jacks can be used to block your opponents or to remove their chips.
Combining the excitement of luck, strategic planning, clever problem solving, and sneakiness - Succession is an intriguing game with plenty to keep parents, tweens, teens, and adults entertained. It's complex enough to keep older minds engaged yet so straightforward that younger members can understand and appreciate it. 
With the option to have 2, 3, 4, 6, 8, 9, 10, or 12 players in your game crew - you can switch it up and create different experiences! Grab this board game for winter family game nights, summer picnics, or impromptu competitions anytime anywhere! 
Made from baltic birch plywood

Board dimensions: 30 x 30  x 1.5 cm (12" x 12" x 3/5")

135

game chips -50 green, 50 blue, and 35 red- included

2 decks of playing cards and instructions included

Game board, game chips, and decks of cards packaged in a cotton bag

Manufactured with care in Nova Scotia

As they are made of natural wood, each board is unique and may vary slightly from the photo

For 2-12 players, ages 7 and up

*** C

hoking hazard - Small Parts - 

Not intended for young children**