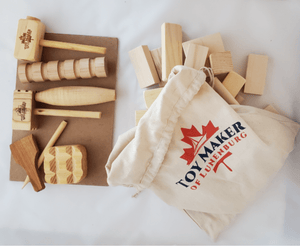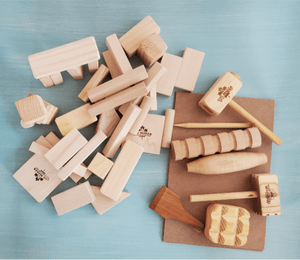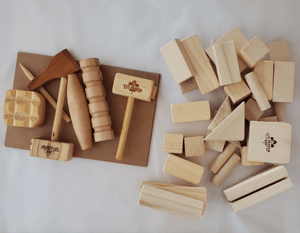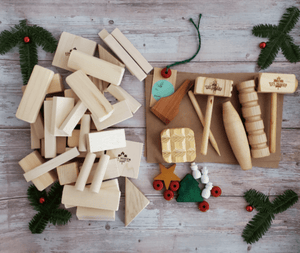 Busy Hands Bundle
This bundle is a great gift for early childhood. It includes our very popular play dough tool set and our classic untreated building blocks.
Nourish your child's senses with toys that feel good to hold and play with. Your little ones can feel the natural grain of the wood. The variety of wooden pieces in this set will provide plenty of opportunities for open-ended play. Simple open-ended toys allow your child to do the thinking, encourage imagination, curiosity, creativity, and experimentation
No more reading directions, hunting for batteries, or putting up with beeps, dings, or robot voices! 
The play dough tool set includes 2 mats and 7 tools: 2 rolling pins, 2 hammers with grooved ends, a textured stamp, a pointed tool, and a spatula.
The building block set includes 40 sturdy pieces: 6 large rectangles, 9 small rectangles, 3 wide rectangles, 6 squares, 8 sticks, 4 dowels, 2 large squares, and 2 triangles.